City of Rising Waters: A Symposium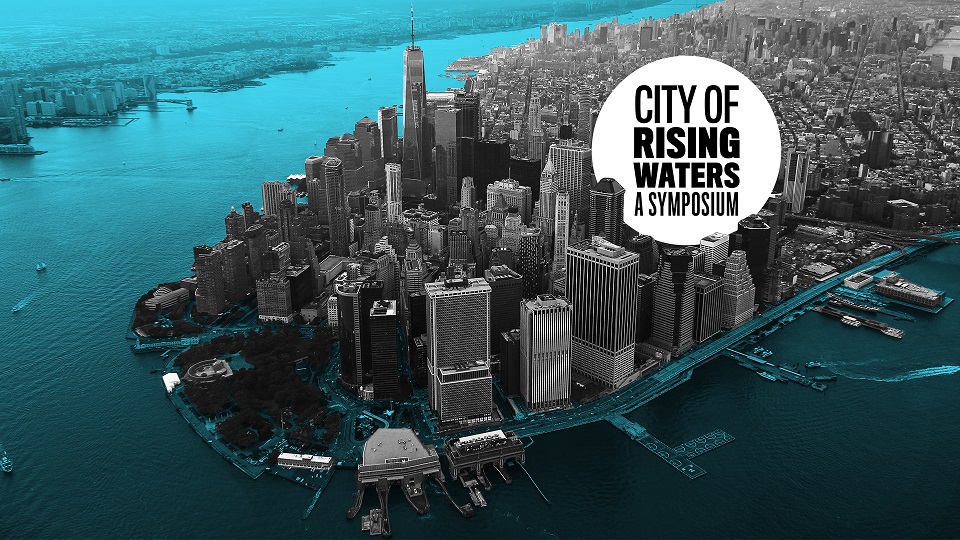 Summary:
To mark the fifth anniversary of Superstorm Sandy -- a watershed moment for New Yorkers' awareness of the devastating impacts of climate change -- join us for an afternoon symposium examining how New York City can survive and embrace its future as a coastal city surrounded by rising waters.

This is the opening program in our new series, New York's Future in a Changing Climate, which explores the challenges and opportunities presented in the Museum's Future City Lab, the interactive third gallery in the New York at Its Core exhibition.
About the program:
Session 1: Confronting the Unthinkable 
Novelist Amitav Ghosh, author of The Great Derangement: Climate Change and the Unthinkable, joins Dr. Naomi Oreskes, author and historian of science, and Dr. Elke Weber, psychologist and social theorist, for a wide-ranging and interdisciplinary conversation moderated by Andrew Revkin, Senior Reporter at ProPublica, about the cultural and psychological context of climate change and the extreme difficulty we experience in facing the facts -- and the future -- head-on.

Session 2: Community Responses to Climate Change
In the face of inaction at the national level, cities and their residents represent the best hope for an effective response to climate change. Join a group of artists, architects, and community organizers at the forefront of these interventions for a conversation about creative approaches to climate change, from grassroots initiatives to provocative artistic projects.
Cecil Corbin-Mark, Deputy Director, WE ACT for Environmental Justice
Mary Mattingly, visual artist and founder of Swale, a floating food forest built atop a barge
Elizabeth Yeampierre, Executive Director, UPROSE
Courtney St. John (moderator), Director of Energy Transition, Climate Nexus
Join Kubi Ackerman, Director of the Future City Lab for small tours of the gallery before and after the symposium. More details are below.
Timeline:
1:15 pm - Tour 1 of the Future City Lab 
1:40 pm - Tour 2 of the Future City Lab 
2:00 pm - Session 1: Confronting the Unthinkable
3:15 pm - Intermission
3:30 pm - Session 2: Community Responses to Climate Change
4:45 pm - Reception
5:15 pm - Tour 3 of the Future City Lab
6:00 pm - Reception ends and the Museum closes
More Information:
Sign ups for Future City Lab tours will be in-person at the Museum, beginning at 1:00 pm on the day of the event. First come, first served. Space is limited.
Tour One: 1:15 pm
Tour Two: 1:40 pm
Tour Three: 5:15 pm
About the Speakers:
Session 1:
Amitav Ghosh is the author of award winning titles including The Circle of Reason, The Shadow Lines, and The Glass Palace. His work has been translated into more than twenty languages and his essays have appeared in The New Yorker, The New Republic, and The New York Times. His book, The Great Derangement: Climate Change and the Unthinkable, was published in July 2016.

Dr. Naomi Oreskes is Professor of the History of Science and Affiliated Professor of Earth and Planetary Sciences at Harvard University. Her 2004 essay "The Scientific Consensus on Climate Change" (Science 306: 1686) has been widely cited, including in the Academy-award winning film, "An Inconvenient Truth", and in Ian McEwan's novel, Solar. 

Dr. Elke Weber is the Gerhard R. Andlinger Professor in Energy and the Environment and Professor of Psychology and Public Affairs at Princeton University. Her research examines and models decision-making under risk and uncertainty and time delay from a psychological and neuroscience perspective, with a focus on understanding and potentially correcting the often far from rational environmental decisions we make.

Andrew Revkin (moderator) is Senior Reporter for climate and related issues at ProPublica. He has written on climate change for 30 years, from the Amazon to the North Pole, the White House to the Vatican. He joined the staff of the Pulitzer-winning public-interest newsroom in December after 21 years of writing for The New York Times. He has written acclaimed books on global warming and the changing Arctic and the Amazon rain forest.

Session 2:
Cecil Corbin-Mark is Deputy Director and Director of Policy Initiatives for WEACT for Environmental Justice in Harlem. Corbin-Mark previously worked for the Bronx County District Attorney, New York State Justice Honorable W. T. Martin, the Mellon Minority Scholars Program, and the New York Public Library.

Mary Mattingly is a Brooklyn-based artist whose work explores issues of sustainability, climate change, and displacement. She is the founder of Swale, a floating food forest built atop a barge that travels to piers in New York City, offering educational programming and welcoming visitors to harvest herbs, fruits, and vegetables for free. 

Elizabeth Yeampierre is the Executive Director of UPROSE, an internationally recognized Puerto Rican attorney, and environmental and climate justice leader of African and Indigenous ancestry. A national leader in climate justice movement, she co-chairs of the Climate Justice Alliance. 
Courtney St. John (moderator) is the Director, Energy Transition at Climate Nexus. St. John previously held positions at Columbia University's Earth Institute, on the U.S. Navy's Task Force Climate Change and as a John A. Knauss Marine Policy Fellow in the Office of the Oceanographer of the Navy. In 2015, Courtney was honored as a Climate "sHero," one of nineteen women working to advance action on climate change in New York City.
$40 adults | $35 seniors, students, and educators (with ID) | $30 Museum members.
Includes Museum admission.
Attention, Members, to receive your discount, click on the "Buy Tickets" button above, then sign in to your account on the ticketing page.
Groups of 10 or more get discounts and priority seating, email or call us at programs@mcny.org or 917-492-3395.
Assistive listening devices are available during our events. Our auditorium can accommodate manual wheelchairs, however, our wheelchair lift cannot currently accommodate electric or motorized wheelchairs. Please contact the Public Programs Department at 917.492.3395 or programs@mcny.org with any questions or concerns.