Past Event: Making It Here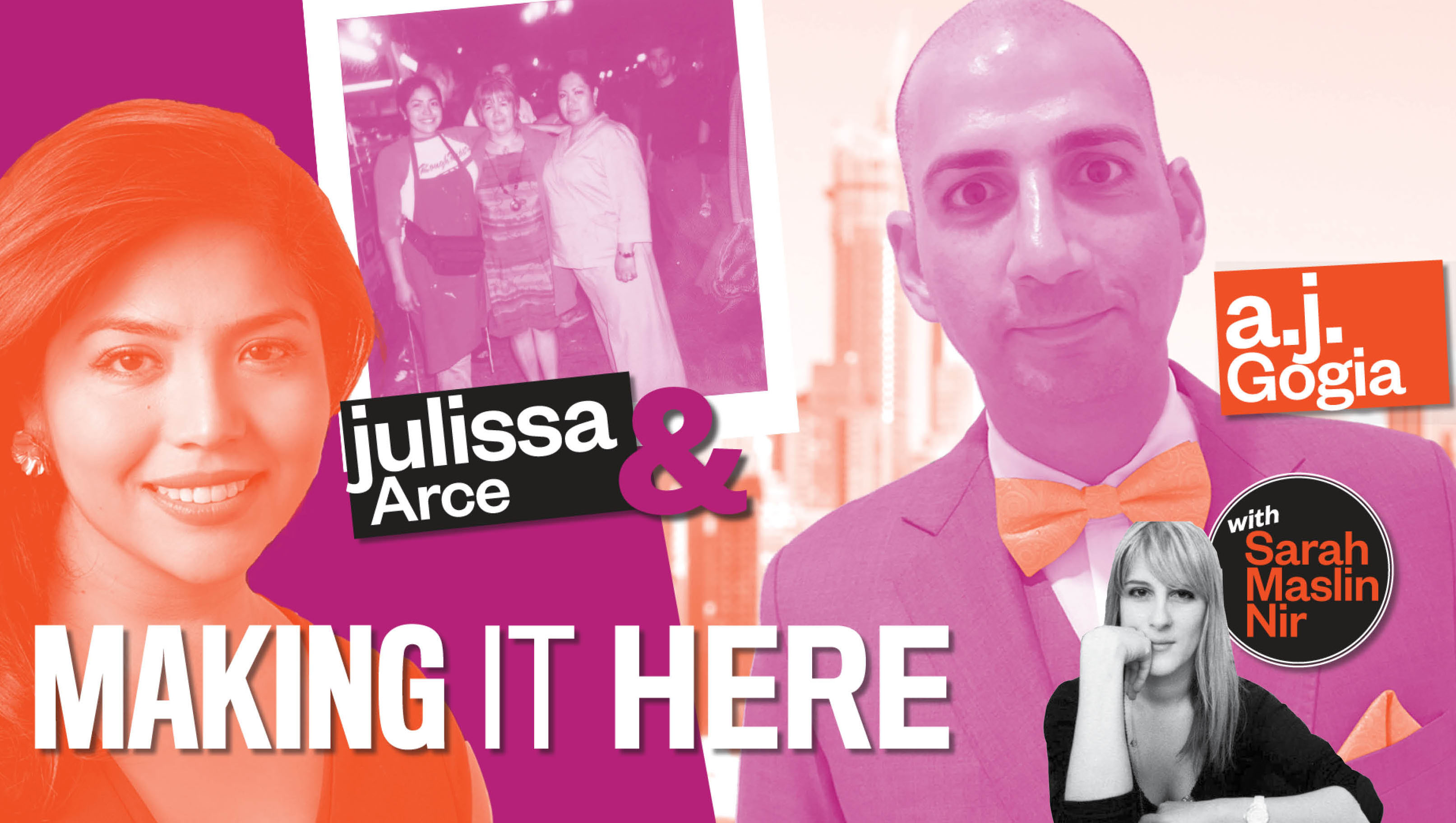 At our next Only in New York event hosted by reporter Sarah Maslin Nir, author/activist Julissa Arce, an undocumented Mexican immigrant who rose to become a Wall Street executive, and entrepreneur AJ Gogia, the "taxi guru" of Little India, Queens, share their "only in New York" stories of struggle and achievement. NEW! With special guest Xue "Michelle" Sun, one of the manicurists in Nir's Pulitzer-Prize nominated report on the city's nail salons.
Only in New York with Times reporter Sarah Maslin Nir is a conversation series bringing together two distinctive New Yorkers from different worlds to explore key questions about the city's identity, culture, and history -- glass of wine in hand.
Reception to follow the program. 
Please note that the start time of this program has changed from 6:30 pm to 7:00 pm.
6:30 pm: Doors to the auditorium, Ronay Menschel Hall, on the Museum's Ground Floor open
7:00 pm: The program begins
8:15 - 8:45 pm: Join us for a glass of wine after the program in the Museum's Rotunda. Julissa Arce will sign copies of her memoir (for sale in the Museum Shop).
About the Speakers
Born in Taxco, Mexico, Julissa Arce made headlines when she revealed that she had risen to become an account executive at Goldman Sachs while undocumented. After working almost a decade on Wall Street, Arce is now a leading voice in the fight for immigrant rights and education equality, co-founder of the Ascend Educational Fund (AEF). She recently published a memoir, My (Underground) American Dream (Hachette Book Group, 2016).
AJ Gogia is known as the "taxi guru" of Little India (Jackson Heights), Queens. Gogia immigrated to New York from New Delhi, India as a teenager and drove a cab while training to be a teacher at Hunter College. For over 20 years now, he has been teaching would-be taxi drivers hoping to pass the Taxi and Limousine Commission's test for a yellow cab license.  He was prominently featured in Frederick Wiseman's 2015 documentary, In Jackson Heights.
Xue Sun, known as Michelle, emigrated from Chengdu City, China to New York in 2012. She worked for five years as a manicurist in various NYC nail salons, jobs for which she frequently earned less than minimum wage. Today she works on the staff of The Tasting Table, an online food magazine.
Sarah Maslin Nir is a native New Yorker and a reporter for The New York Times best known for her report on the working conditions of nail salon workers, for which she was a finalist for the 2016 Pulitzer Prize. A graduate of the Brearley School, Columbia University, and the Columbia University School of Journalism, where she received her masters, she was also The New York Times' nightlife correspondent, covering 252 parties in 18 months. She once had an audience with the Queen of Spain, though she failed to realize it at the time. 
$25 for adults | $20 for seniors, students & educators (with ID) | $15 for Museum members. Includes Museum admission.
Watch this trailer to see other upcoming events in this series:
Members: to receive your discount, click on the "Buy Tickets" button above, then sign in to your account on the ticketing page.
Groups of 10 or more get discounts and priority seating. Email or call us at programs@mcny.org or 917-492-3395.