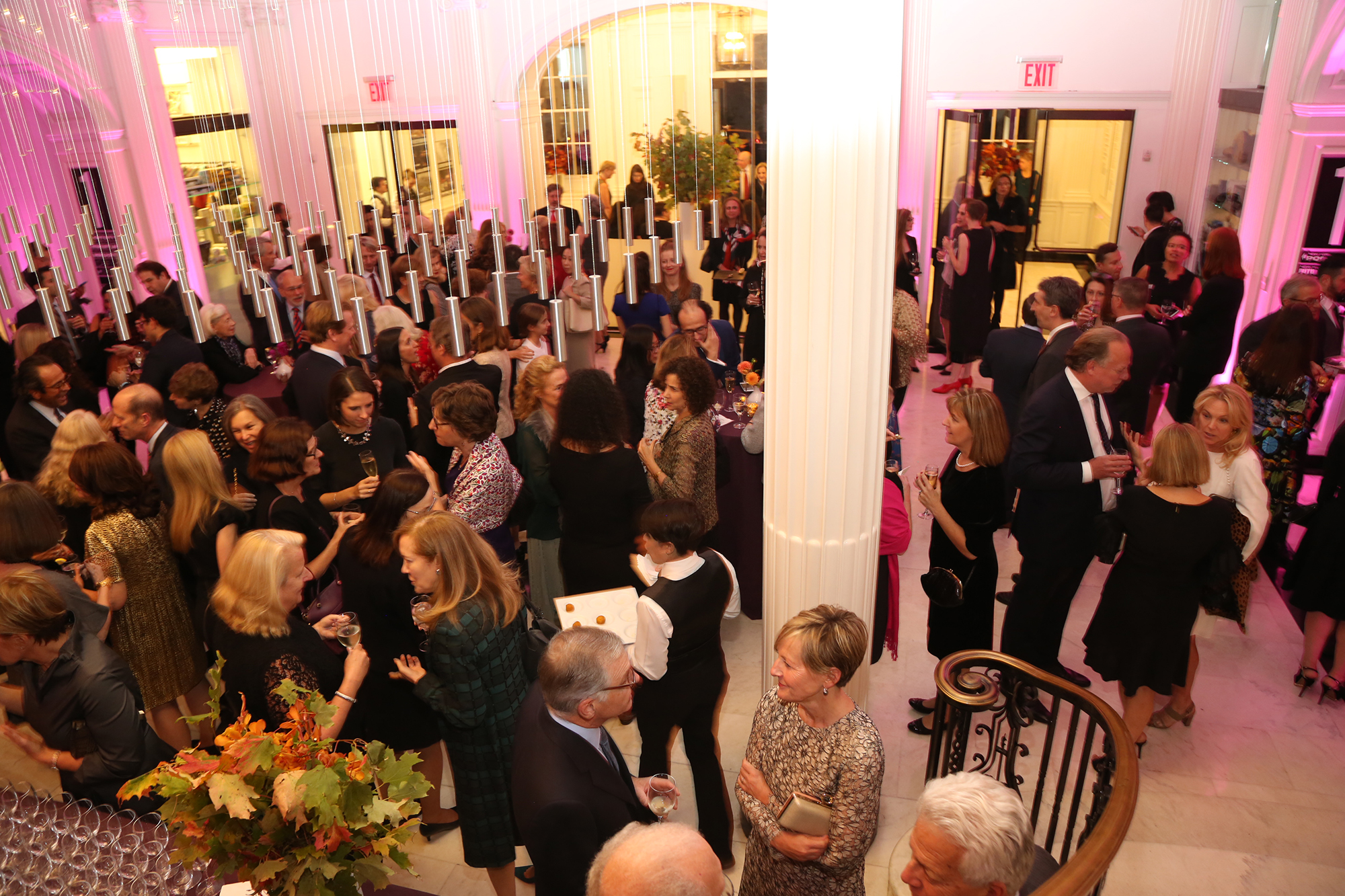 Signature & Member Events
Louis Auchincloss Prize Gala
The Museum of the City of New York will present its 2018 Louis Auchincloss Prize to Tony Award-winning composer, lyricist and performer, Jason Robert Brown, on Wednesday, November 14, 2018, at a gala dinner. Past Louis Auchincloss Prize honorees include Whoopi Goldberg, Gloria Steinem, Michiko Kakutani, Tony Kushner, Wynton Marsalis, Philip Glass, and Stephen Sondheim. 

Learn more and purchase tickets.
---
Chairman's Leadership Award Dinner 
Each year, the Museum of the City of New York presents the Chairman's Leadership Award to an outstanding corporate citizen in recognition of their contributions to the life and well-being of New York City. This year, we were proud to present the award to Tracy V. Maitland, President Advent Capital Management, LLC., at a dinner at the Museum, on Wednesday, June 6, 2018.  
---
Spring Symposium & Luncheon 
On Monday, June 4, 2018, the Museum of the City of New York presented its City of Design Award to renowned New York architect Elizabeth Graziolo at its annual Spring Symposium & Luncheon. The City of Design Award was inaugurated in 2015 to recognize those who have made New York the design capital of the world and who inspire future generations of designers to bring their talents to our great city. Past recipients of the City of Design Award include Peter Marino, Jacques Grange and Ralph Pucci, and Jonathan Adler and Simon Doonan.
---
Family Party & Alexander Hamilton's Disco
The Museum of the City of New York's Family Party and Alexander Hamilton's Disco was held on March 2, 2018, from 4:00–7:00 pm. An exciting evening of fun and history, perfect for toddlers to tweens and their families, the centerpiece of the evening was Alexander Hamilton's Disco where our young guests and their parents grooved to the music from the hit Broadway Hamilton and other pop dance masterpieces spun by our house DJ. At the same time, families enjoyed a scavenger hunt through New York City history in the Museum's permanent exhibition, New York at Its Core, and enjoyed other family friendly activities!
---
Director's Council of the Museum of the City of New York 
The Museum's Director's Council is a group of individuals who have established an on-going commitment to the Museum and its mission. This year the Director's Council will host the Winter Ball gala dinner to raise funds and awareness for the Museum on February 21, 2019, at Cipriani 42nd Street.

Please contact directorscouncil@mcny.org for more information on the Director's Council events.
---
Events For The Alexander Hamilton Circle 
Join us for exclusive receptions and private tours of exhibitions and art collections at the Museum and beyond.
---
For more information, contact:
Claude Barilleaux, Director of Special Events | 917.492.3326 | cbarilleaux@mcny.org
Jackie Zirman, Associate Director of Special Events | 917.492.3414 | jzirman@mcny.org