When:
Thursday, February 9, 2023, 6:30pm
This event has passed.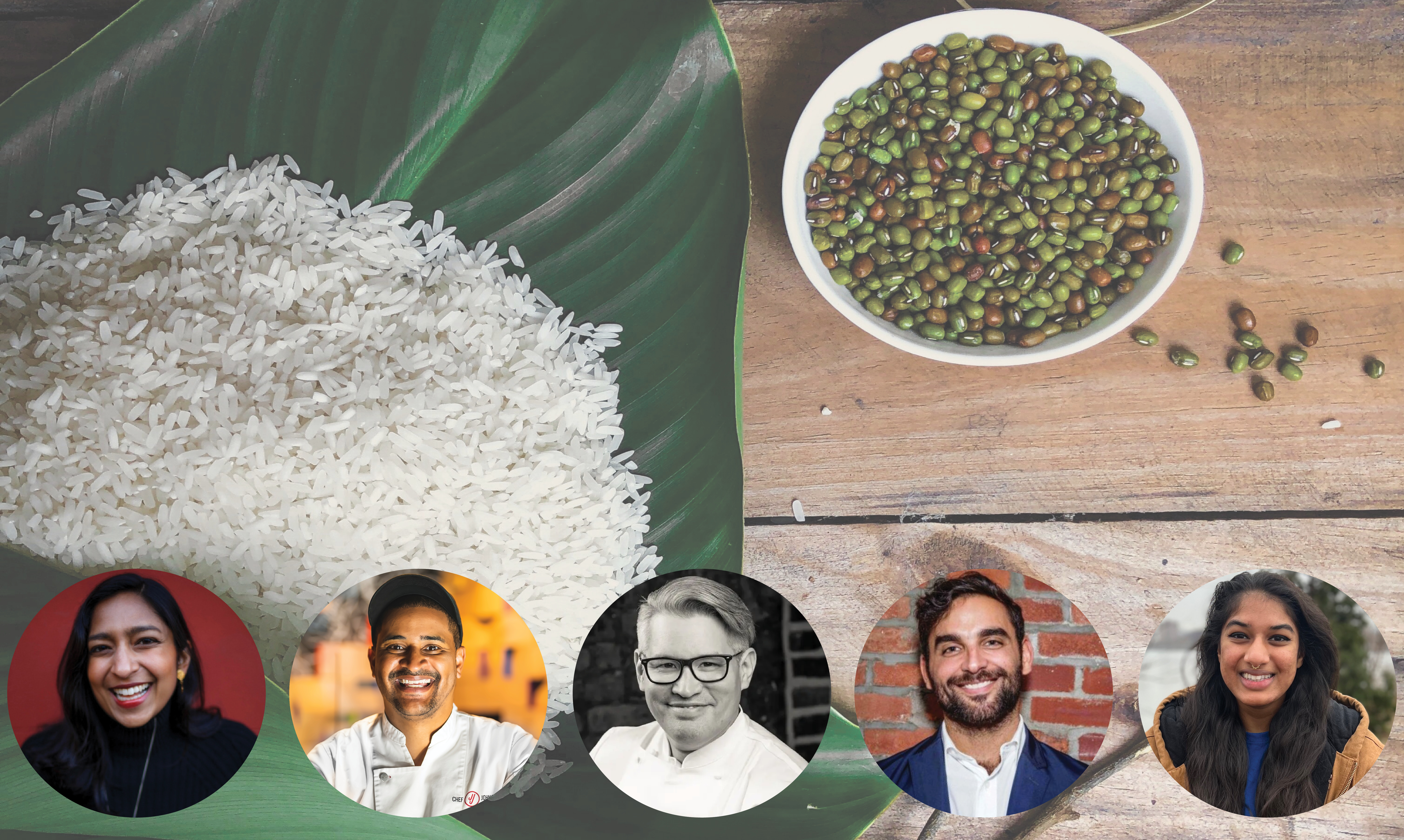 From Paella to Galinhada to Nasi Lemak, rice is an ingredient that shows up globally in the classic dishes of cuisines around the world. While often innocuous, it's easy to forget that every type of rice represents a migration journey, and when combined with local flavors, the final dish is a mash-up of terroir and story. In Harlem, a neighborhood filled with myriad immigrant communities, rice can be thought of as a representation of the area's diverse culture. No one knows this better than James Beard Award-winning Chef Chef JJ Johnson, whose restaurant FIELDTRIP celebrates culture through the shared experience of rice. 
Join Johnson along with Oscar Lorenzzi, chef of Contento in East Harlem, farmer and educator Anisha Rathod, and James Gonzalez, co-owner of Puerto Rican institution La Fonda in Spanish Harlem. They will be in conversation with New York Times Food staff reporter, Priya Krishna, to discuss the experiences of diaspora communities rooted in Harlem and connected by rice, a common ingredient with countless stories to tell.  Your ticket includes a rice bowl from FIELDTRIP and a glass of sake from Brooklyn Kura, plus all-day admission to the Museum.
Part of Eat Your Heart Out, a series of talks and tastings accompanying our exhibition, Food in New York: Bigger Than the Plate.
Co-presented by MOFAD (Museum of Food and Drink).
About the Speakers:
JJ Johnson is a James Beard Award-winning chef best known for his barrier-breaking cuisine connecting the foodways of West Africa and Asia to the Americas. Chef JJ's signature style of combining culturally relevant ingredients with his classically trained cooking and global point of view was inspired by the Caribbean tastes he grew up with, combined with inspiration from his travels. Recognized by Eater as one of the New Guard of Power in NYC Dining, JJ's brand of creating cultural connections through food is a hallmark of his hospitality group Ingrained Hospitality Concepts, LLC, a collaboration of industry professionals dedicated to creating great restaurants while sharing international cuisine with amazing hospitality.
Priya Krishna is a New York Times Food staff reporter. She is the author of multiple cookbooks, including the best-selling Indian-ish. Her stories have been included in the 2019 and 2021 editions of The Best American Food Writing. She is originally from Dallas, Texas.
Oscar Lorenzi Born in Peru's culinary capital, Lima, Chef Oscar Lorenzzi spent two decades working his way through the ranks of New York City's restaurant scene before becoming Executive Chef and Managing Partner of Contento in New York City's East Harlem. Previously, Chef Oscar worked at Man Ray, L'Escale and Gaia before joining Andy D'Amico of Chef Driven Group to develop the successful 5 Napkin Burger franchise.  Oscar then moved on to lead Marseille and Nice Matin as Chef de Cuisine.  After a decade with Chef Driven Group, Oscar became Executive Chef of Graydon Carter's renowned Waverly Inn. Oscar ran the kitchen for two years keeping Waverly's star-studded guest list full and happy. Oscar returned to Chef Driven Group in 2018, overseeing the kitchen at Nice Matin while helping develop plans for his dream project, Contento.
Anisha Rathod is an Urban Farmer and Educator at Randall's Island Park Alliance's Urban Farm in New York City. Over the course of four years, she has farmed both in the United States and internationally, including on a variety of rice farms in Nepal, China, and Japan. For five years, Anisha has designed and led programs encouraging people of all ages to think critically about food systems and food justice through land stewardship, cooking, and advocacy. On Randall's Island, Anisha engages students in the farm's "Taste of Rice" Program, a field trip series for elementary school students to plant, harvest, and process rice grown on the farm. At least four different varieties of rice are grown each season, representing regions and cultures from around the world. Anisha lives in Jackson Heights, Queens, the most diverse neighborhood of New York City -- where rice is a staple ingredient and common thread across many communities and cuisines. 
James Gonzalez, a Nuyorican born and raised in the Bronx, pursued his desire to be an entrepreneur and interest in Latin Cuisine when he relocated to Harlem and became co-owner of La Fonda, a Puerto Rican restaurant and staple of the Spanish Harlem Community. In addition to overseeing the day to day operations, James is hands-on in the kitchen and enjoys assisting his team with the traditional Puerto Rican dishes La Fonda is well known for.  He is credited with expansion of La Fonda's infrastructure and extensive menu which contains what Puerto Ricans consider their soul food: rice and beans containing the secret sauce, sofrito.
Prior to becoming a restaurateur, James spent over 14 years in the sales and marketing industry where he learned about the restaurant industry. However, his true knowledge and love for food comes from his mother and grandmother. James's Grandmother, Monseratte (Monse) was one of the first Latinas in their Bronx community to open a restaurant.

Event Logistics (subject to changed based on NYC regulations):
Please contact programs@mcny.org with any questions or ticketing issues.
All sales are final; refunds not permitted. Exchanges and credit for future programs only. Programs and dates may be subject to change.