Past Event: Unexpected Pairings: Sake & Tacos
When:
Tuesday, August 21, 7:00pm – 8:30pm
Price:
$25 General Admission | $20 Museum Members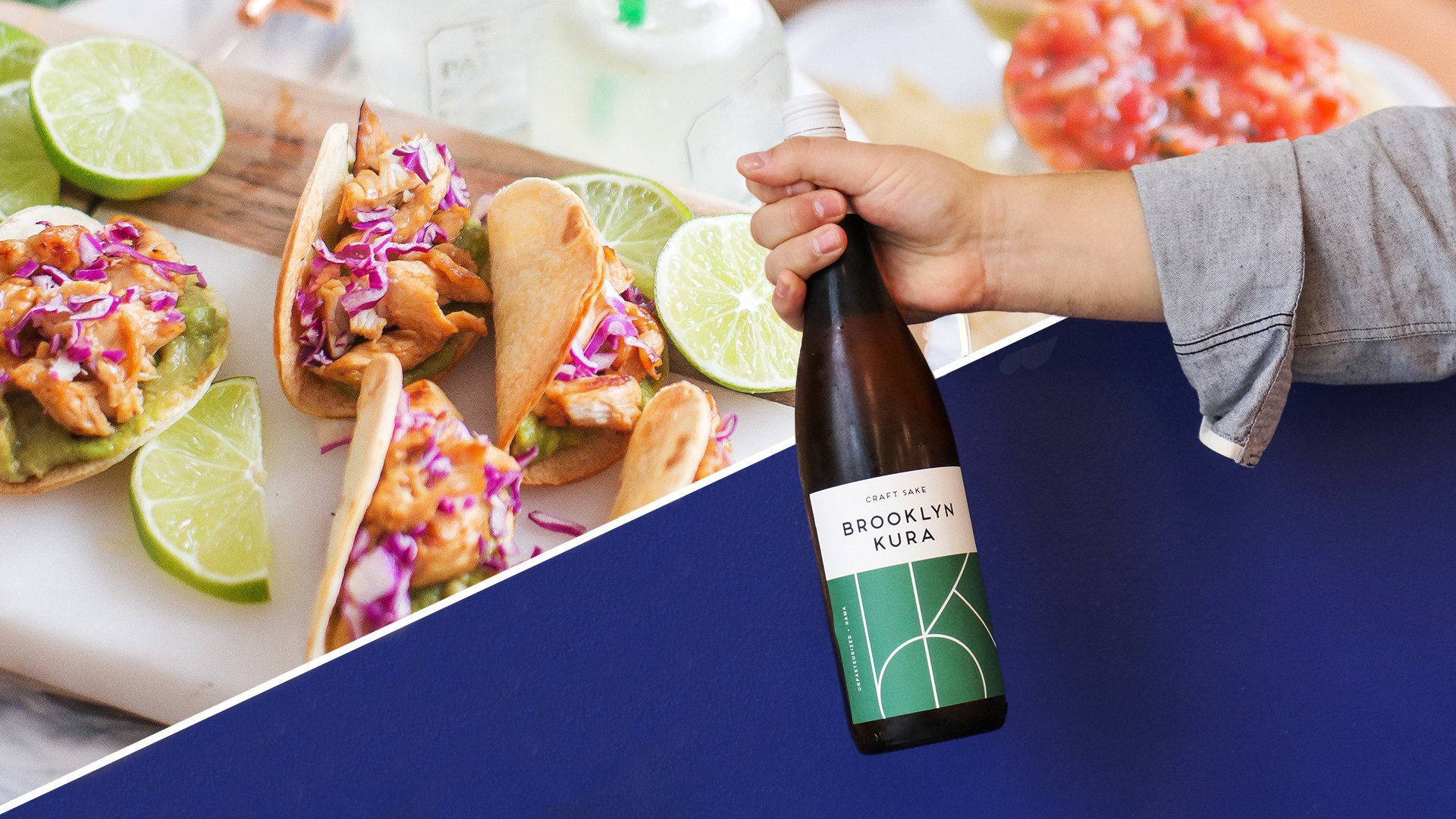 Please note that online ticket sales for this program have now closed. There will be a standby line for any tickets that may become available tonight on a first come, first served basis. They will cost $30 for general admission and $25 for Museum Members. Admission, however, is not guaranteed. 
Please note that there will be no after-hour exhibition viewings.
Experience a unique New York mashup of Japanese and Mexican flavors: sake and tacos.

Brian Polen, co-founder of Brooklyn Kura, the city's first sake brewery, and Julian Hoyos, owner of East Harlem's own Cascalote Latin Bistro, curate an only in New York pairing of Japanese and Mexican flavors. Both take inspiration from infusing familiar foods with new flavor and meaning. Brooklyn Kura offers a subtle yet complex take on sake, revolutionizing New Yorkers' understanding of this traditional Japanese rice wine, while Cascalote serves dishes with unexpected twists, like Mexican-inspired Bibimbap. Polen and Hoyos will discuss how they authentically update classics from afar and transform them into New York City staples with moderator Lauren Wilson, editor of Edible Manhattan. 
After the conversation, join us on the Museum's Terrace for a tasting of Brooklyn Kura sake alongside salmon tartar and shrimp tacos from Cascalote Latin Bistro as well as a special live performance featuring Oren Fader on guitar and Jessica Taskov on flute from the Diller-Quaile School of Music.

Part of our new series Unexpected Pairings, in which New York's most adventurous brewers and distillers share their craft and pair their drinks with distinctive local bites. To view all of the programs in the series, click here.

About the Speakers:
Julian Hoyos is the founder and chef at Cascalote Latin Bistro, in East Harlem. Born in Mexico, Hoyos moved to New York City at age 14 and began his career as a cook at Firenze Restaurant. In 2013, he opened Cascalote with his family; his wife is his sous chef, and his daughters run the restaurant floor.

Brian Polen is the co-founder of Brooklyn Kura, an American craft sake brewery in Sunset Park, Brooklyn. He and his partner, Brandon Doughan, have been brewing sake since 2013 after learning the craft in Japan. In March, Polen and Doughan opened a public taproom next to their brewery that offers exclusive sake only available on-site and small plates.

Lauren Wilson (moderator) is editor of Edible Manhattan, a magazine and website that tells the story of how the city eats. She grew up on her family's farm in western North Carolina, and before moving to Brooklyn, studied agriculture policy and made cheese in the Burgundy region of France. She is also a volunteer citizen scientist with the Billion Oyster Project.
$25 General Admission | $20 for Museum members
21+ event. Includes Museum admission
Members: To receive your discount, click on the "Buy Tickets" button above, then sign in to your account on the ticketing page.
Groups of 10 or more get discounts; contact us at programs@mcny.org or 917.492.3395