Our Fair City Virtual Conversation: In-Between
When:
Wednesday, January 27, 2021, 7:00pm
Price:
Registration required, donation suggested.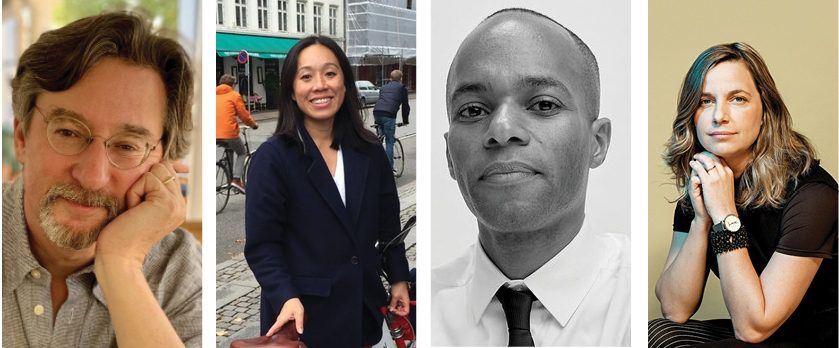 Streetscape adaptations during the pandemic have demonstrated both possibilities and pitfalls. Now it's time to move from improvisation to planning. How can New York plot a wholesale reorganization of the way we use streets—more than a quarter of the city's land—less as a grid of channels to sluice vehicles around and more as a collective outdoors where eating, commuting, playing, selling, working, and innumerable other activities all coexist. For the third session in our series, Our Fair City: Building a More Equitable New York, critic and editor Justin Davidson talks to urban designer Justin Garrett Moore, landscape architect Kate Orff, and transit expert Shin-pei Tsay about how we can reimagine our public space.
This program will take place via Zoom Webinar. Registrants will receive the Zoom link the morning of the event. 
About the Speakers:
Justin Garrett Moore is a transdisciplinary designer and urbanist and serves as the executive director of the Public Design Commission. He has extensive experience in architecture, urban design, and planning—from large-scale urban policies and projects to grassroots and community-based planning, design, and arts initiatives. At the Public Design Commission, his work focuses on prioritizing quality and excellence for the public realm and fostering accessibility, diversity, and inclusion in New York's public buildings, landscapes, and art. He is a member of the American Planning Association's AICP Commission, the Urban Design Forum, and the Black urbanist collective BlackSpace. Justin is an adjunct faculty member at Columbia University's Graduate School of Architecture, Planning and Preservation and the Yale School of Architecture. His social enterprise, Urban Patch, focuses on sustainable development through social and environmental design projects in the United States and Rwanda. He holds a Bachelor of Design from the University of Florida and a Master of Architecture and a Master of Science in Architecture and Urban Design from Columbia University.
Kate Orff, RLA, FASLA, is Founding Principal of SCAPE and Director of the Urban Design program at Columbia GSAPP, where she is also a Professor and Co-Director of the Center for Resilient Cities and Landscapes (CRCL). She focuses on retooling the practice of landscape architecture relative to the uncertainty of climate change and creating spaces to foster social life, which she has explored through publications, activism, research, and projects. She is known for leading complex, creative, and collaborative work processes that advance broad environmental and social prerogatives, and became the first landscape architect to receive the MacArthur Foundation Fellowship in 2017.
Shin-pei Tsay is the Director of Policy, Cities & Transportation at Uber, where she leads a team of issues experts focused on what Uber calls a "sustainable multi-modal urban future." Prior to Uber, she founded a social impact analysis company called Make Public. She was also the deputy executive director of TransitCenter, a national foundation focused on improving urban transportation. She also founded and directed the cities and transportation program under the Energy and Climate Program at the Carnegie Endowment for International Peace. For the past four years, Tsay has served as a commissioner for the City of New York Public Design Commission. She is on the board of the national nonprofit In Our Backyard. Tsay holds a BA, Government from Cornell University, and an MSc, Cities, Space & Society from the London School of Economics and Political Science.
Justin Davidson (moderator) has been the classical music and architecture critic at New York magazine since 2007. He is now the editor of Cityscape as a part of Curbed/New York magazine.  He won a Pulitzer Prize for criticism in 2002 and an American Society of Newspaper Editors criticism (ASNE) award. He has contributed to The New Yorker, W., Travel and Leisure, The Los Angeles Times, Slate, and Salon, and has appeared on WNYC and NPR. He is the author of Magnetic City: A Walking Companion to New York (Penguin Random House, 2017). Read his recent article about the future of New York City here.  
This is the third event in our series Our Fair City: Building a More Equitable New York. For more information, click here.
Tickets for this event are donation-based.
Accessibility: Closed captions will be available for this program. Please contact the Museum at 917.492.3333 or info@mcny.org with any questions.
Our Partners
Our Fair City is co-presented with Curbed.