Native American Heritage Celebration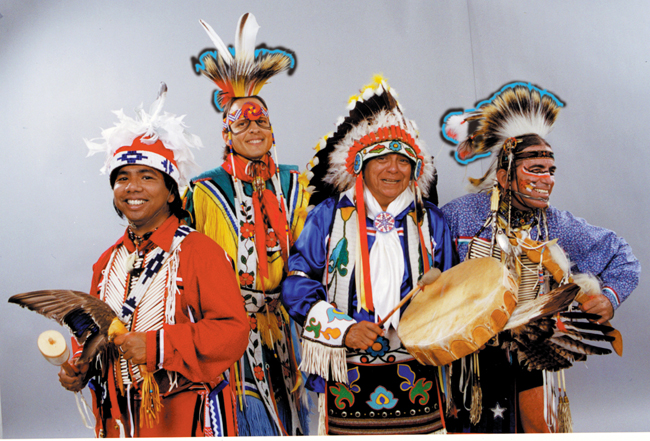 Join us in celebrating the vast history and contemporary voices of Native American New Yorkers, who come from Tribal Nations from all over the country. Enjoy storytelling and a performance of songs and dances of many tribes from the Northeast, Southwest, and Great Plains by the renowned Thunderbird American Indian Dancers. See Lenape objects in New York at Its Core and contemporary art by Native American New Yorkers in Urban Indian: Native New York Now, and create art to take home.
11:00 – 11:45 am: Visit New York at Its Core and Urban Indian: Native New York Now exhibitions
11:45 am – 12:45 pm: Performance of songs and dances by the Thunderbird American Indian Dancers
1:00 – 2:00 pm: Storytelling by the Thunderbird American Indian Dancers

The Thunderbird American Indian Dancers are the oldest resident Native American dance company in New York. The troupe was founded in 1963 by a group of ten Native American men and women, all New Yorkers, who were descended from Mohawk, Hopi, Winnebago, and San Blas tribes. Some were in school at the time; all were "first generation," meaning that their parents had been born on reservations. They founded the troupe to keep alive the traditions, songs, and dances they had learned from their parents and added to their repertoire from other Native Americans living in New York and some who were passing through. Since its formation, Louis Mofsie and the Thunderbird American Indian Dancers have visited and performed in almost all 50 states, and have learned from a wide variety of Indian peoples.  
Family programs are free with Museum admission and free for Members, geared to families with children ages 6–12 years old, and include a snack. Activities are designed for adults and children to complete together.
Free with Museum admission. Registration suggested, but not required.
Family and Community Engagement Programs are made possible in part by the Margaret S. Ogden and Stephen A. Ogden Memorial Fund, Milton and Sally Avery Arts Foundation, Sy Syms Foundation, and the Frank J. Antun Foundation.

The Frederick A.O. Schwarz Education Center is endowed by grants from The Thompson Family Foundation Fund, the F.A.O. Schwarz Family Foundation, the William Randolph Hearst Endowment, and other generous donors.