Past Event: Cocktails & Culture: Twilight Zone Halloween Bash
When:
Friday, October 28, 2022, 6:00pm
This event has passed.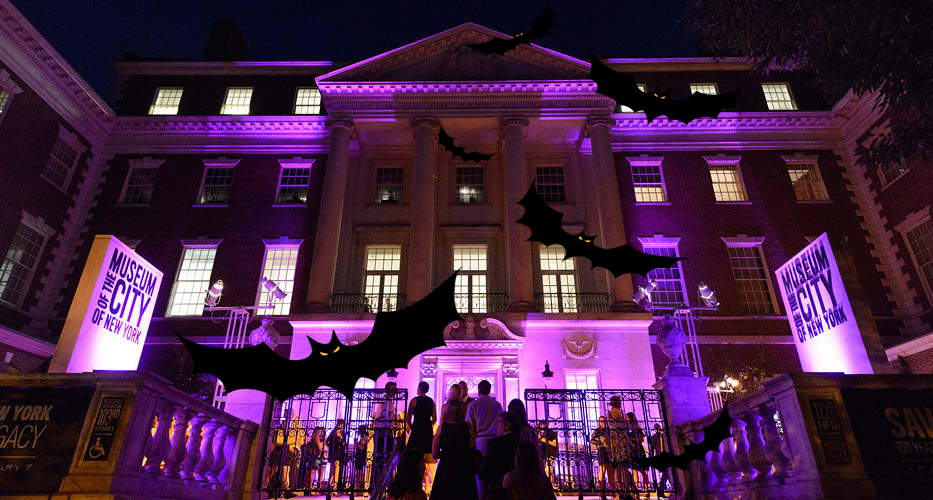 Travel through another dimension of sound, sight and mind this Halloweekend at MCNY at our Cocktails & Culture: Twilight Zone Halloween Bash!  Kick off your Halloween festivities with a night of spooky, surreal fun. Groove the night away outdoors on the South Terrace with Vinyl Nights hosted by Rebecca Lynn and featuring DJ Misbehaviour and DJ Shakey.  Enjoy a ghoulish dance performance by ThrillerNYC, whose boogying zombies are a highlight of the annual Greenwich Village Halloween Parade!
We invite you to come dressed as your favorite Twilight Zone character and compete for prizes in our costume contest. Enjoy themed cocktails from the MCNY bar, delicious bites from the Empanada Mama pop-up café, and stroll after-hours through our hit exhibitions, including Analog City: NYC B.C. and Food in New York: Bigger than the Plate -- just try not to end up on the menu!
About DJ Misbehaviour:
Born in London now based in NYC, Misbehaviour has been rocking parties across the Globe since 1989 and makes seasonal appearances at Afro Punk Festival, New York Summer Stage, Art Basel Miami and many more. She was just profiled in the "Sunday Routine" column of The New York Times here.
About DJ Shakey: 
DJ Shakey has been a fixture in the NYC nightlife scene for over 20 years having played every kind of venue from big clubs to museums to dive bars to warehouses. She created and directs Shakey's Record Fair and has a personal collection of over 10,000 vinyl recordings. She was listed as one of New York's "Top Ten Event DJs" in Bizbash Magazine for event planners. 
About Vinyl Nights:
Dance to the hits that shaped NYC club culture with native New Yorkers, artists, and music lovers. Disco, Funk & Soul, House, boogie, latin, & '80s & '90s hip hop. All on Vinyl. It's a celebration of "Everything New York" produced by Rebecca Lynn.
About ThrillerNYC:
Since 2004, ThrillerNYC has celebrated a combined love of gore and Michael Jackson by performing the infamous Thriller dance in the Greenwich Village Halloween Parade. In their words: "We are between 17 and a million years old, and our dance experience ranges from novice to professional. We eat brains, grrrrrrrrrowl and bite, but most importantly, we boogie. This Halloween, leave your mundane human life behind and transform into a rotting, dancing cadaver. After studio rehearsals, outdoor practices in Central Park, and zombie makeup lessons, you'll be hungering for brains in no time." 
Event Logistics (Subject to change based on NYC regulations)
For more information about the Museum's COVID Guidelines, please check our "Plan Your Visit" page.
Please contact programs@mcny.org with any questions or ticketing issues.