Past Event: Welcome to Fear City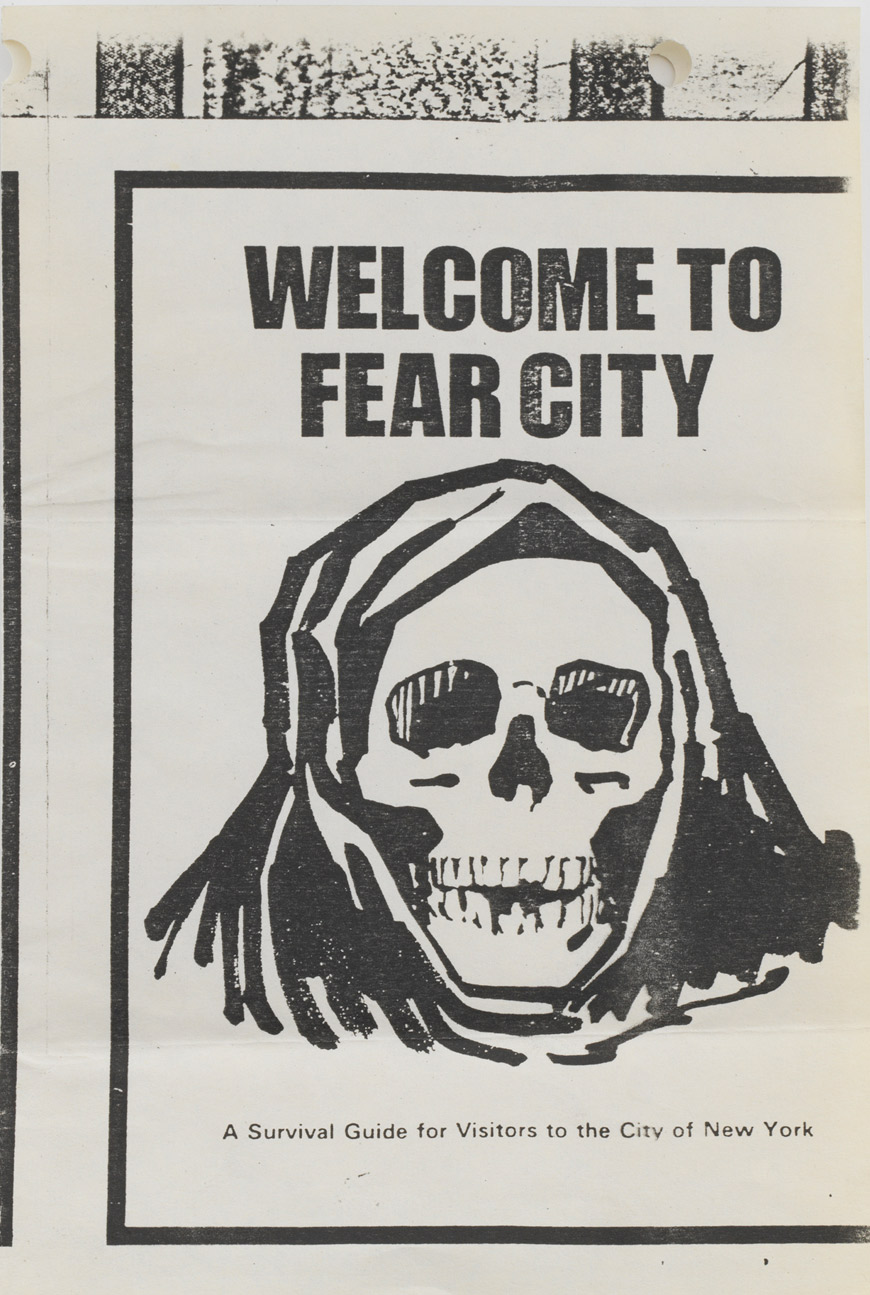 Please note that this program is now sold out.  There will be a wait list starting at 5:45 pm this evening. Any additional seats will be released at 6:35 pm in the order the names were received. You must be physically present when your name is called or your place will be forfeited. We do not guarantee that any seats will become available.
Once upon a time in the 1970s, New York City was supposed to "drop dead," or at least wither away due to disinvestment and white flight to the suburbs. Instead, creativity flourished amidst urban decline and new art forms like Hip Hop and Punk Rock were introduced to the world. Meanwhile, 42nd Street's sleaze economy continued to thrive. Savor this 16mm snapshot of the period, featuring four rarely-screened short films from the period. The films will be introduced by Will Hermes, senior critic for Rolling Stone, frequent contributor to NPR's "All Things Considered," and author of Love Goes to Buildings on Fire: Five Years in New York That Changed Music Forever, who is currently writing a biography of Lou Reed.
Films: 
Sodom and Gomorrah, New York, 10036
Rudy Burckhardt, 1976, 6.25 min 
At the age of 62, in the year of Travis Bickle, one of New York's great photographic chroniclers, turned his slyly responsive camera-eye on the city's booming sex industry at 8th avenue and 42nd street. The result, like all Burckhardt's work, is a lyrical impression of a time and place.
A Sense of Pride: Hamilton Heights
Monica J. Freeman, 1977, 15 min
Monica J. Freeman's serene portrait of Hamilton Heights at the peak of its brownstone revival is a testament to the cohesion and spirit of an African-American middle class fighting hard for its place in a depressed city, and, in the process, returning a grand old neighborhood to its rightful splendor.

Punking Out
Maggi Carson, Juliusz Kossakowski & Ric Shore, 1978, 23 min
In 1977, three NYU film students ventured into the bowels of CBGB, returning with this snapshot of the venue in full flower. Intercutting brief glimpses of the Ramones, Dead Boys, and the Voidoids doing their worst, and disarmingly raw, unguarded interviews with band members and patrons alike, this may be the definitive punk document.

Electric Boogie
Tana Ross & Freke Vuijst, 1983, 34 min
Centered around a group of four black and Puerto Rican youths dubbed the Electric Boogie Boys, this short documentary from a pair of European filmmakers is a seminal portrait of the South Bronx break dancing scene.
Includes Museum admission and complimentary beer provided by Sixpoint Brewery.

Smile, It's Your Close Up, our nonfiction film series co-programmed with Jessica Green and Edo Choi of the Maysles Documentary Center, zooms in on key moments, individuals, and communities to pose the question: "What makes New York New York?" Each program includes an introduction or conversation with filmmakers or other notable guests. 
$15 for adults | $12 for seniors, students & educators (with ID) | $10 for Museum and Maysles Documentary Center members.
Attention, Members, to receive your discount, click on the "Buy Tickets" button above, then sign in to your account on the ticketing page.
Groups of 10 or more get discounts and priority seating, email or call us at programs@mcny.org or 917-492-3395.
Co-Sponsor
Presented in collaboration with the Maysles Documentary Center.
Beer provided by Sixpoint Brewery.
This event is co-sponsored by CUNY Graduate Center Film Studies Program, Habitat for Humanity NYC Young Professionals, Hunter College Film and Media Studies Department, Jumel Terrace Books, Manhattan College Department of Visual & Performing Arts, On the Set of New York, and The Documentary Forum @ City College of New York.
Thank you to Elena Rossi-Snook (New York Public Library for the Performing Arts).