Moonlight & Movies: The Naked City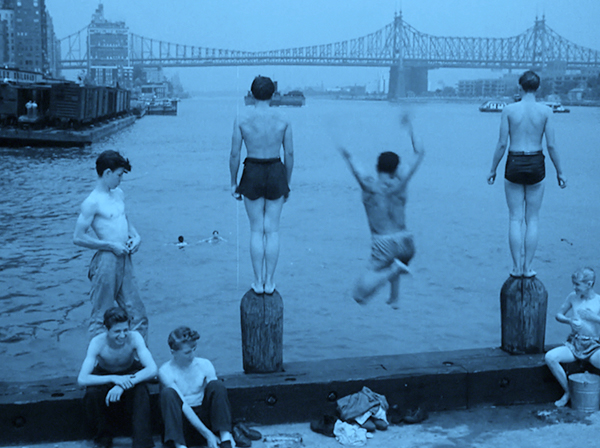 Savor Jules Dassin's dazzling 1948 film noir The Naked City on the Museum's Terrace as part of our outdoor film screening series, Moonlight & Movies.

Long before Stanley Kubrick cemented his reputation as an iconic yet enigmatic filmmaker, before 2001: A Space Odyssey and A Clockwork Orange, he joined Look magazine as a staff photographer at the age of 17. It was while on assignment for Look that Kubrick had his first glimpse behind the scenes of a film shoot when he took photos on the set of Jules Dassin's The Naked City (1948) for an unpublished feature. Inspired by our upcoming exhibition, Through a Different Lens: Stanley Kubrick Photographs, we take a fresh look at this breathtakingly vivid film noir, which stirred Kubrick's nascent fascination with film.

Introduction by author, filmmaker, and architect James Sanders to precede the screening. 

In the case of rain, the screening will be moved indoors and take place at the same time. 

About The Naked City (Jules Dassin, 1948, 96 min):
"There are eight million stories in the naked city, this has been one of them." In Jules Dassin's 1948 film noir classic, the murder of an ex-model puts detectives on the dangerous trail of her killer, leading them from glamorous Park Avenue apartments to the gritty streets of the Lower East Side. Shot on location in New York City, the film received two Academy Awards for Cinematography and Film Editing.

About the Speaker: 
James Sanders is the Principal of Sanders + Associates and is an author, filmmaker, and internationally recognized architect. Sanders is the co-creator the Museum of the City of New York's award-winning short documentary Timescapes with Jake Barton of Local Projects. Other projects include New York: A Documentary Film, an eight-part PBS series and winner of two Emmy Awards, and New York: An Illustrated History. His books Celluloid Skyline: New York and the Movies and Scenes from the City: Filmmaking in New York explore filmmaking in New York City. His writing has appeared in The New York Times, The Los Angeles Times, Vanity Fair, Architectural Record and elsewhere. Sanders sits on the Advisory Council of the AIA's Center to Architecture, the board of the Skyscraper Museum, and he is the director of the Center for Urban Experience. He was awarded a John Simon Guggenheim Fellowship for research in the experience of cities in 2006.

To view all of our Moonlight & Movies films screened outdoors on the Museum's Terrace this summer, click here. 

This program also accompanies our exhibition, Through a Different Lens: Stanley Kubrick Photographs (on view through October 28, 2018). To view all of the programs in the series, click here.

Timeline:
7:30 pm – Doors open, drinks and snacks from Amy's Bread will be available for purchase
8:00 pm – Introduction begins
8:30 pm – Film screening begins
10:15 pm – Program concludes
$15 for adults | $12 for seniors, students, and educators (with ID) | $10 for Museum Members
Includes Museum admission.
Members: To receive your discount, click on the "Buy Tickets" button above, then sign in to your account on the ticketing page.
Groups of 10 or more get discounts; contact us at programs@mcny.org or 917.492.3395.