Day With(out) Art: ALTERNATE ENDINGS, RADICAL BEGINNINGS
When:
Friday, December 1, 10:00am – 6:00pm
Price:
Free with Museum admission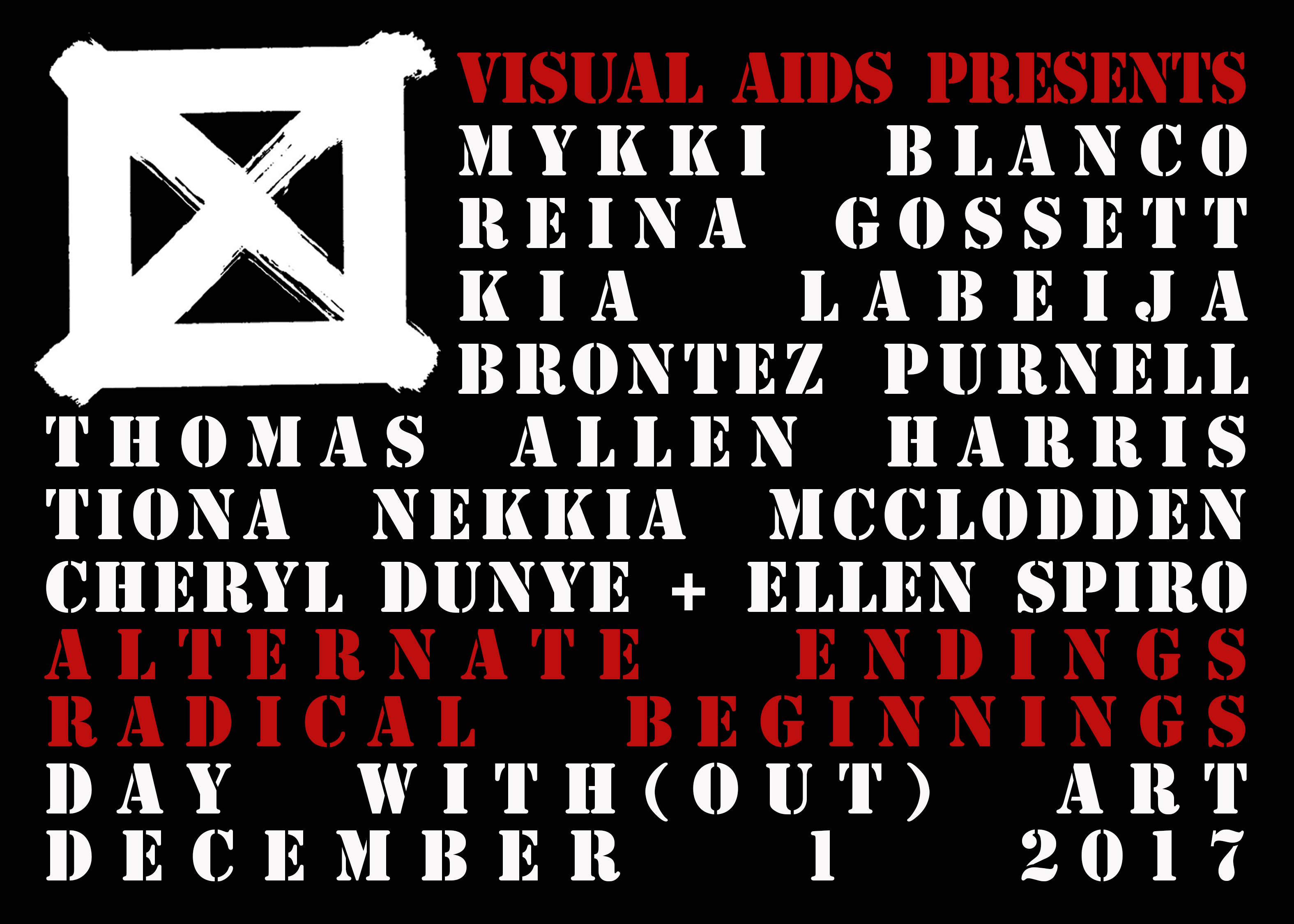 In conjunction with Day With(out) Art, an international day of action and mourning in response to the AIDS crisis organized by Visual AIDS each year on World AIDS Day, the Museum of the City of New York presents ALTERNATE ENDINGS, RADICAL BEGINNINGS. ALTERNATE ENDINGS, RADICAL BEGINNINGS is a collection of seven newly commissioned short videos curated by Erin Christovale and Vivian Crockett for Visual AIDS that prioritize Black narratives within the ongoing AIDS epidemic from artists Mykki Blanco, Cheryl Dunye & Ellen Spiro, Reina Gossett, Thomas Allen Harris, Kia Labeija, Tiona Nekkia McClodden, and Brontez Purnell. 

Free with Museum admission, registration not required.

The seven short videos will be playing on loop at the Museum from 10 am to 6 pm on Monday, December 1. Check back for more details, including a screening schedule. 

About ALTERNATE ENDINGS, RADICAL BEGINNINGS: 
In spite of the impact of HIV/AIDS within Black communities, these stories and experiences are constantly excluded from larger artistic and historical narratives. In 2016 African Americans represented 44% of all new HIV diagnoses in the United States. Given this context, it is increasingly urgent to feature a myriad of stories that consider and represent the lives of those housed within this statistic. The commissioned videos include intimate meditations of young HIV positive protagonists; a consideration of community-based HIV/AIDS activism in the South; explorations of the legacies and contemporary resonances within AIDS archives; a poetic journey through New York exploring historical traces of queer and trans life, and more. Together, the videos provide a platform centering voices deeply impacted by the ongoing epidemic. For more information on the films, click here. 

About Day With(out) Art:
In response to the worsening AIDS crisis and coinciding with the World Health Organization's second annual World AIDS Day on December 1, Visual AIDS organized the first Day Without Art. The annual event has since initiated numerous projects that included: A Night Without Light (the dimming of the New York skylight), the Electric Blanket (a nationwide outdoor slide projection with text and images), and Positive Actions (an exhibition-competition for a television PSA held simultaneously in three NYC venues), among others. Since 2010, Visual AIDS has worked with artists and filmmakers to internationally distribute videos to museums, art institutions, schools and AIDS organizations, including this year's film, ALTERNATE ENDINGS, RADICAL BEGINNINGS. For more information on Day With(out) Art, click here. 
Our Partners
Co-presented with Visual AIDS.
This project is supported in part by an award from the National Endowment for the Arts and the generous support of The Shelley & Donald Rubin Foundation. Visual AIDS would also like to thank the artists for the time and resources they have contributed to this project.